Top 10 Best RO Water Purifiers in India 2020 (with Reviews)
Last Updated on 2020-01-03 by Shivam Setia
If you on the lookout for the best RO water purifier for your home or office, then you are at the right place. Below we have compiled a list of top 10 best RO purifiers that are available in India as of January 2020.
This list of best RO purifier contains purifiers from different price range and various brands like Kent, HUL PureIt, LivPure, Aquaguard, AO Smith. The major criteria of these shortlisted purifiers are the storage capacity, value for money and after-sales service they offer.
RO Purifier, in general, is useful for places where the TDS(Total Dissolved Solids) level in the water supply is higher than 300. These RO purifiers can treat water with TDS level-up to 2000 and reduce the TDS to less than 300 making it safe for drinking. Check out what different levels of TDS mean.
The water purifiers listed here are priced from around Rs. 8000 to 23000 so if you need a purifier under 10000, 15000 or 20000, you will find it here.
Let's take a look at the best RO water purifiers in India. Just after this list of best purifiers, we have also listed our favorite from this list.
Deals/Offers: Amazon Great Indian Sale is Here! Get Amazing Deals + Extra 10% Discount with SBI Cards. Take a Look at Best Deals Now!
Here is the list of Best RO Water Purifiers:
1. Blue Star Majesto 8L RO + UV Water Purifier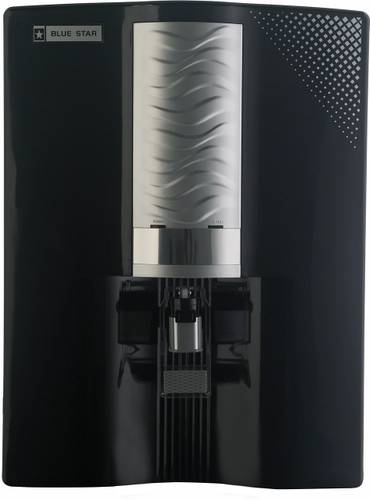 Blue Star with its great brand value and has introduced itself in the water purifier market. With Majesto RO + UV water purifier, Blue Star introduces a great balance between the quality of water purification and the brand value. This water purifier consists of a 6-step purification process with the water passing through various layers like a pre-sediment filter, pre-carbon filter, RO Membrane, UV Lamp and post-carbon filter with Aqua Taste Booster (ATB). You can read about the functioning of these layers here.
The RO membrane and UV Lamp, together are the major layers responsible for reducing the TDS to make it safe for drinking and to remove bacteria and other harmful microorganisms from the water. The Aqua Taste Booster (ATB) helps maintain the pH levels of water to enhance the taste and quality of water.
There is a Copper Impregnated Activated Carbon aid in removing the bacteria, smell and organic compounds from the water and the Super Fine Sediment Filter removes the finest of dust, sand, mud and many other suspended particles.
Majesto RO + UV water purifier has an 8L storage capacity which is good storage capacity and gives an indication as the tank is full. This purifier also has a large purification capacity due to a strong RO Membrane and can clean up to 285 Litres in a day. In a good way, it can reduce the TDS of water level 1800 to around 200 making it very safe for drinking.
Under 15000, this is one of the best water purifiers from Blue Star.
Pros
Aqua Taste Booster
Six Stage Purification
Large Purification Capacity
2. AO Smith X4 9 L RO Water Purifier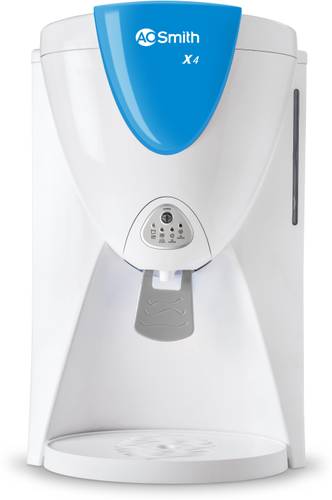 AO Smith X4 RO water purifier comes with 6 stages of purification namely Pre Filter, Sediment Filter, Pre Carbon Filter, Patented Side Stream Ro Membrane, Silver Activated Post Carbon. The functioning and role of these layers can be known here.
This purifier uses RO technology for purification, hence is suitable for sources of water such as borewell, overhead tanks, municipal supply and can operate well for water with TDS less than 2000. At the output, it can reduce the TDS to safe drinking level because of RO purification. The total capacity of the tank is 9L which should be very much sufficient.
The front of the purifier has smart indicators for Tank full or if there is a requirement of replacement of cartridges. It also comes with Auto start/stop and overflow protection feature and has a high output rate of approx 15 Litres per hour.
Pros
Six Stages of Purification
Stylish Design
Solid Build Quality
3. HUL Pureit Ultima 10L RO+UV Water Purifier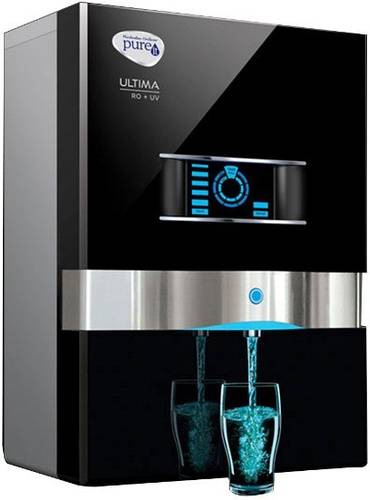 This PureIt Ultima RO+UV Water Purifier uses the RO purification feature has a 6-stage purification system. Since it operates on the RO principle of purification, it can reduce the TDS by a minimum of 90% to make it safe for drinking. It can process water from borewell, overhead tank, municipal supply or other sources with Maximum TDS 2000 ppm.
It has a good storage capacity of 10L and can purify 3000 Litres of water (depending on the quality of input water) before any replacement of change in filter cartridges is required. Also if there is any fault that occurs or the cartridges require a replacement, the system alerts 15 days in advance using a smart alarm system.
It has a detachable storage tank and auto start and shut off options for ease of usage. The product has 1 year of manufacturer warranty and is one of the best purifiers for both home and office usage.
Pros
Solid Build Quality
Six Stages of Purification
10L of Storage Tank
Cons
Slightly Higher Maintenance Cost
4. Moonbow Achelous Premium 7L RO + UV Water Purifier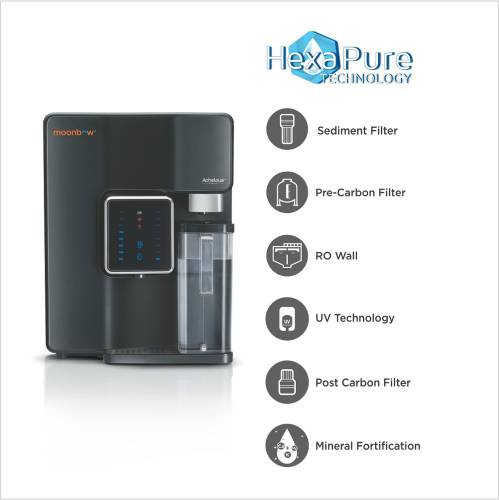 Moonbow Achelous Premium is an RO + UV Water Purifier and is beautifully designed that it adds shine and look to your kitchen.
It works on a DigiSens Technology comprising of a digital touch panel that has smart LED indicators for Tank Full, filter replacement and failure alert in case of an electric component failure. It can filter approx 4000 Litres of water before a filter replacement might be needed. There is also an input and output TDS level indicator built in the purifier touch panel. It has two water outlets, one that can fill a jug and the other that can fill a glass of water. This purifier has a storage capacity of 7L and can filter water with a maximum TDS level of 2000 ppm.
Moonbow Achelous Premium is powered by HexaPure Technology where the water passed through 6-layer of purification namely UltraFine Sediment filter, Adsorbent Pre-Carbon Filter, Reverse Osmosis(RO) Membrane, UV Purification, Pre Carbon Filter, Mineral Fortification. Take a look at the video here, that explains the use of these layers.
Pros
Strong build quality
Beautiful Design
Value for money
Features and Specs
| | |
| --- | --- |
| Capacity | 7L |
| Output Capacity | 2L/min |
| Material | Food Safe, Non Toxic, Engineering Grade ABS |
| Weight | 8.5 Kg |
| Color | Black |
| Warranty | RO Membrane - 1 Year, Filters - 6 Months, Electrical Parts - 1 Year |
Price and Available Offers
Here is the link to check the latest price of Moonbow Achelous Premium 7L RO + UV Water Purifier:
5. Eureka Forbes Aquaguard Enhance 7L RO + UV + TDS Water Purifier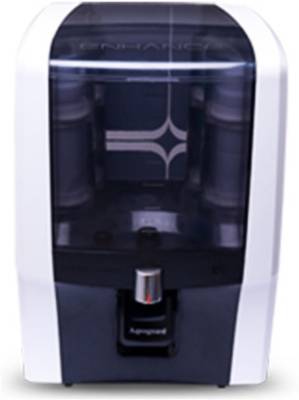 Eureka Forbes, the parent company of the famous brand name Aquaguard launched a new technology purifier, Aquaguard Enhance RO + UV + TDS Water Purifier, which apart from the standard RO + UV purification, offers a TDS regulator.
The RO + UV purification ensures that the TDS of water is in permissible limit and is germ-free, the TDS regulator, on the other hand, is responsible for controlling the taste of water.
This purifier also comes with a mineral guard, that is responsible to maintain the levels of minerals at optimum levels. The Electronic Membrane Life Enhancer (EMLE), present in this purifier, has an important role to prevent scaling of dissolved salts like calcium and magnesium, hence, enhancing the life of the membrane of the purifier.
Another interesting feature of this purifier is that comes with 11 W UV Lamp, compared to the 8 W UV lamp seen in other purifiers, the higher wattage lamp helps in complete removal/de-activation of the harmful organisms. The tank of the purifier is made of Food Grade Plastic and can store 7L of water.
This water purifier is one of the bestsellers under Rs. 20000 in India. It is rated above 4 stars by around a thousand users which speaks about its quality and performance.
Pros
Mineralizer Technology
High Wattage UV Purification
Strong Build Qaulity
6. Kent Pride 8L RO + UF Water Purifier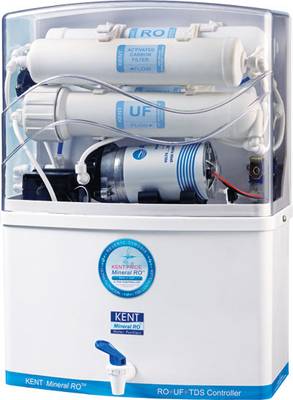 Kent Pride Water Purifier, uses double purification of RO + UF technology with TDS controller to purify and add minerals to the water. The system has international certification of CE and WQA assuring that the purifier meets all the quality standards.
With total 6-stages of purification and a strong RO membrane, it can filter water from all sources with maximum TDS around 2000 ppm. The purifier weighs around 9 Kg and can purify about 15 Litres of water in an hour.
Pride Water purifier is wall mountable and has strong build quality. It has alert/alarm system for filter change and inbuilt SMPS Supply to prevent any damage due to power fluctuations. This purifier has a total capacity of 8L and consumes around 60 W of power.
It can dispense around 2L in a minute from the output tap and has a Spin Welded RO Membrane that prevents the membrane from getting damaged and hence increases the life of the membrane.
Pros
Good Build Quality
Six Stage Purification
SMPS Protection
7. Kent Grand Plus 8L RO + UV + UF Water Purifier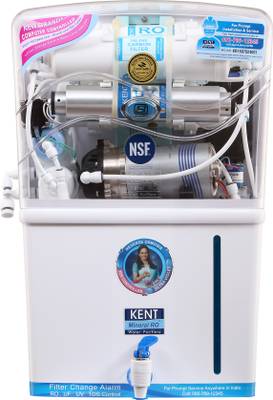 Kent Grand Plus as with other Kent branded purifier consist of the same build and design with filters at the top and water storage tank below it. This purifier combines RO + UV + UF to perform purification along with other important filters(Sediment filter, carbon filter, etc). The purification mechanism is followed by a TDS controller that is responsible to keep all the necessary minerals intact in the filtered water.
Grand plus has 8L of storage capacity and the storage tank is made of ABS Food Grade Plastic Construction.
The input water source can be any water source with maximum TDS levels of 2000 ppm. The RO membrane is spin welded, that prevents it from getting tampered. This purifier is capable of performing the start/stop operation automatically when the water level is below a certain level or the storage tank is full.
The build quality can be credited to the push-fit components used, that prevent leakage and wastage of water. It draws power of 60W and has inbuilt SMPS to prevent damage in case of fluctuation.
Grand Plus is certified by laboratories over the world like NSF, WQA Gold Seal and is also CE and ISI certified.
Pros
Six Stages of Purification
Strong Build Quality
Push Fit Components Prevents Leakage
Good Service After Sales
8. Livpure Glitz+ 7 L RO + UF Water Purifier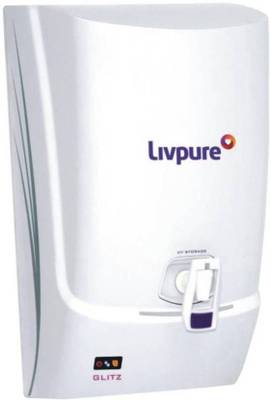 Livpure Glitz+ Water Purifier combines the RO + UF technology to offer clean drinking water. It is highly compact and well designed.
As with most other purifiers, this Livpure purifier also has 6 stages of purification namely Antiscalant cartridge, sediment filter, Pre-activated carbon adsorber, reverse osmosis membrane, UF cartridge and Silver Impregnated Post carbon cartridge. This stages combined removes turbidity, chlorine, hazardous organics and inorganics compounds.
With its RO Technology, it can treat water with TDS up to 2000 ppm and can output around 12L of water in an hour. In this compact size, it weighs only 6Kg and has 7 litres of storage tank, which is simply brilliant.
This purifier does not have any indicators for Tank full or alert/alarm system for change in cartridges but has Auto Start and Stop feature.
Pros
Great Design and form factor
Six Stage Purification
Great Value for Money
Cons
No Indicators to alert user
9. Midea 8 L RO + UV + UF Water Purifier
Midea is a new brand or a sub-brand of Carrier company and is a new player in the water purifier industry. This purifier has a big 8 Litres of a storage tank and offers 9 stages of purification to output crystal clean water. It relies on RO + UV + UF purification process to output clean water.
The build quality is solid however the looks are not that impressive. Coming to the features, it can pure water with TDS up to 2000 levels making it suitable to clean water from most of the sources. The tank is built of N9 Antibacterial Plastic Tank and is among very few purifiers to feature the N9 antibacterial tank.
On the front, you get alert for tank full, service alert and UV failure. The product has a warranty of 1 Year on Product and 1 Year on RO Membrane.
The water purifier has all basic features, performs well and offers good value for money. Go for it if you have a budget of around Rs. 10000.
Pros
9 Stages of Purification
Big 8 L Storage Tank
N9 Antibacterial Plastic Tank
Clean Water with TDS Upto 2000
Cons
Looks are not impressive.
So we hope the above list of best RO water purifiers in India 2020 was helpful and you were able to find a suitable water purifier. Kent and Pureit are 2 top brands in the water purifiers category. If you would like to see more options from these brands take a look at our below articles:
Best Kent Water Purifiers in India
Best Pureit Water Purifiers in India